I'd been in Dublin for a full five hours and still not visited the Guinness Brewery. It was time to change that.
I left Trinity College in search of  a green hop on-hop off tour bus, and I didn't look too far to find one. Thanks to Dublin Bus Tours, my transportation was taken care of. Their informative guides taught me about the city as I rode in comfort to the Guinness Storehouse. After such a long day traveling, it was nice just to sit back, relax, and take in Dublin's most famous sites.
A short, fifteen-minute ride and I arrived to my destination. Even though it was a Sunday and shortly after noon, there was a bit of a crowd. Billed as Ireland's number one tourist attraction, I wasn't surprised. Fortunately, I bought my ticket online. I skipped the line and marched over to the automated ticket machine, punched in my confirmation number, and headed for the entrance with tickets in hand.
I entered into the giant, seven-story atrium and saw the world's largest pint glass stretching up through the middle. The 9,000 year lease signed in 1759 by the brewer's founder, Arthur Guinness, was on display there, too.  The merchandise store grabbed my attention, and I walked in for a peek around. Anything you could imagine was branded with the fabled Irish beer's name. After a quick browse around, I began my self-guided tour.
Up the escalator I went. The look of the place was quite industrial with its exposed bricks and concrete floors. It was dark, but displays were lit up with spotlights. Television screens were scattered about showcasing the brewing process. Relics from the Guinness brewing past were featured throughout this floor as well. Interactive presentations of water, barley, hops, and yeast,  caught my eye.
On the next floor I learned about storage and transportation of Guinness throughout its history. Coopers, the men who made the barrels that held the beer, were highly-skilled craftsmen. After all, it was imperative that the beer retain it's flavor during shipping. It was ten years after the lease was signed that Guinness first exported its beer. Six and a half barrels were sent by boat to England. The black stuff, one of Guinness' nicknames, has been dispatched by horses, trains, barges, boats, and trucks.
I went another floor higher, reaching the third. This level was dedicated to various sponsorships and advertisements. From sports to cultural events, Guinness is known the world over for lending its name to rugby, hurling, and a host of other sporting events. Memorabilia lined the walls and offered a glimpse of another side of the Guinness empire.
I wished I was hungry, because on the fifth floor, there were four different dining options that looked lovely. From an Irish-style pub to a bistro and a dining hall to a cafe, there was something for everyone. I would be willing to bet that the black stuff was used in many of the recipes, too.
I finally reached the top floor, the one that holds the world-famous Gravity Bar. With a 360 degree view of Dublin, this is said to be the best view of the city. It certainly didn't disappoint. Tables full of people lined the floor to ceiling windows. With the circular bar in the middle, bartenders worked furiously to keep patrons' glasses full.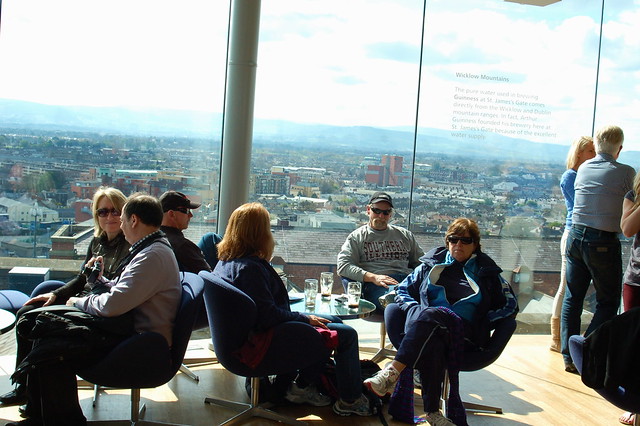 Not normally a beer drinker, I bellied up to the bar and ordered a pint. It was good, really good, as a matter of fact. I'd been told that Guinness tastes better in Ireland. I didn't believe it until that moment. Laughter and smiles filled the bar. I wasn't surprised. The skies were clear and the beer was dark. It was a perfect Irish day.
Dublin Bus Tours provided my transportation within the city. I lost my ticket, and they replaced it fast and without question. If you're planning on visiting Dublin, I highly recommend them as your choice as well. Thanks to all the folks at Dublin Bus Tours.